The Room quest is up and running! Get yourself a Typhoon Lagoon Guest Room while you still can.
You need Diving Suit Magic, To Play Pirates and Jungle Cruise, and purchase an item.
* Enjoy your new room! *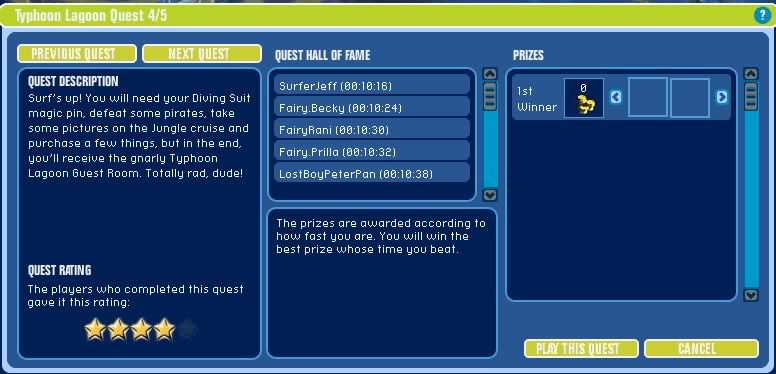 1. Miss Tilly
2. Crush 'n' Gusher
3. Shipwreck Graveyard
4. Find Mickey; Center of Ship
5. Find Mickey; Left on ground
6. Find Mickey; Right on ship
7. Find Mickey; Left in front of ship on ground
8. Find Mickey; Left in the sand
(tip - exit from diving now)
9. Humunga Kowabunga
10. Shark Reef
11. Bonnethead Sharks
12. Nautilus Grotto
13. Find gem; top center
14. Find gem; center of floor
15. Find gem; right by treasure chest
16. Find gem; top by shell chair
17. Find gem; floor by pirate photo
18. Pirates of the Caribbean Game Lobby
19. Play Pirates and Win "Ship Battle"
20. Mayday Falls
21. Mayday
22. Deckbuster
23. 122cm or shorter
24. Jungle Cruise Dock
25. (407)-WDW-PLAY
26. Castaway Creek
27. Play Jungle Cruise; get 10,000 points
28. 2 hours
29. falls
30. (407)WDW-SURF
31. Leaning Palms
32. Purchase Water Slide Starting Part