This weekend there is a Host Ride-A-Thon for the new Space Mountain Ride tracks. By participating in the Ride-A-Thon you can get a piece of the track before they go on sale.

Simply go to one of the Host rooms, such as "VMK Space Blue Start," wait in line and then jump on the track. In the end you will get a prize for your ride and then you can hop on again.
The even runs from 8:30am-8:30pm VMK time Friday, Saturday and Sunday.
Friday
: Space Mountain Ride Downhill.

Saturday
: Space Mountain Ride Uphill
*(Was extended until VMK close)
Sunday
:
Early you were only able to get one track piece. According the message you should be able to at least get one from each color, so this was a bug. Later in the day it was fixed and you were then able to get one piece for each time you rode.

Notice the different turns and such? Look at the track changer.

There are also these new items spotted:
Space Turnstyle: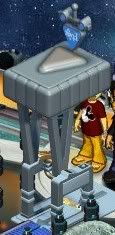 Space Teleports: