01/03/07 SPECIAL EDITION– Announcing the Monorail Music Mixer and a new Land!
Yavn Speaks: Special Edition!
Has everyone recovered from the holidays? Did your team win the big bowl game? I know, we usually update you on Monday, but I thought I'd take a second and give you a mini-update to help get you back in the swing of school/work/life/VMK. To get the ball rolling we have an all new New Year's Quest! Don't worry - you don't need to catch any ghosts, sink any ships, or put on a fireworks show - the new Quest is a question-filled quiz all about VMK's last 12 months.

20 correct answers and you're the proud owner of this brand new 2007 Pin!
What? Not enough for you? Then how about the first ever screen of the new Monorail Music Mixer? Main Street is no longer the only place to create the ultimate music jam, now you can hop the Monorail and create a cool mix with all new sounds. The Monorail will still take you around the Kingdom, but why not dance while you ride? The Music Mixer works the same way as the one on Main Street but the sounds are completely different, also note that you can't mix your mixes together (say that 10 times fast), since the mixers are totally separate.
</EM>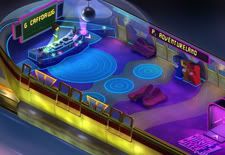 Bust a move with the Monorail Music Mixer!
This Land is your Land
You've probably heard about the new Land coming to VMK by now and like you, I'm excited about the new addition. But before the Welcome Wagon gets here, let me set up this ribbon cutting - the new Land, while very cool and a welcome addition, will be our smallest Land yet.
Now hold on a sec (I hear a collective sigh over the internet), let me explain - before I do, remember in VMK, everything is not always what is seems (for instance, just because the map looks small does not mean the Land is small). In fact, our new Ticketing System was in part designed for a specific location that won't even be on the new land map. ;-) We create locations exclusively for the purpose of enhancing the existing game - as I've said before, we don't want to add rooms just for the sake of adding rooms. So once you've gotten in there and played around, it will make more sense. (Even the new Land's NPC does something totally new - just say the magic "code" word and you might see some magic...)
Who is this guy - and why is he in my column?
Finally, as we head into 2007, we feel we've made some pretty significant enhancements to the game - VMK Pass, Tickets, Fireworks Remix, Monorail Music Mixer and the new Land - we hope you agree and like all the cool updates we're doing. But hey! That's just the in-game stuff! I can't wait to show you our next Park Quest as well as roll out the revised Park Reward Plan! Until then, enjoy the holiday decorations, they won't be around much longer... And a quick question for you before I go - anybody up for an Epcot Guest Room?
source vmk.com