1/15/07 – Personalize the way you play VMK! Plus, Club 33, VMK Pass and more new stuff!
The New Stuff!
So what do you think of all the new additions? We surprised you with New Orleans Square? I know there was some speculation that the next Land was going to be Toon Town but we were just being sneaky! ;-) I know we've discussed the new features a bit already but after listening to your comments and the VMK Staff, I wanted to clarify a few things in more detail. Also, although it's been a while, I think it's about time we talk about some of the cool new website features on VMK.com.
Club 33 has arrived to mixed reactions - everyone really loves the new room, the look, the artistic details (especially the portrait of Walt) -nice job team! But you're not quite sure we haven't made the room or furniture for sale. Well, it's because Club 33 is a place for very special events, let me explain, I've put together a little FAQ to answer your questions:
Yavn's
Club 33 Mini-FAQ

Q: What is Club 33?
A:
It's a very special location for very special events and parties. These special events require Tickets.
Q: When and where can I buy the Club 33 room and furniture?
A:
Sorry, Club 33 is an exclusive location, the room, table or chairs won't be sold. Only VMK Staff have access to them, and then only for special events.
Inside the glorious Club 33.
Q: I've heard the room is VMK Staff Only, what does that mean?
A:
Although it sounds like a room where VMK Staff hang out, it really means that only VMK Staff will own the room.
Q: Ok, why are VMK Staff the only ones who can own the room?
A:
Just like the real Club 33 at Disneyland, we wanted to have a place in VMK that was unique - a place, that when you got a chance to visit it, the visit was truly special.
There are many wonderful locations in VMK but since you can visit them anytime you like, they're not as special as one that is more exclusive.
Q: How will VMK Players get into the room?
A:
Now that the Club 33 preview is over, soon VMK will start releasing information for specific events that take place in Club 33.
Q: Will players ever be able to use or rent the room for their own events?
A:
Yes. We'll have information about when and how you will be able to use Club 33 for your own events in the future.
So there you have it, Club 33 is a special place where you'll need a Ticket to enter.
Tickets! Get Your Tickets!
And speaking of Tickets - you guys certainly are enjoying the VMK Pass system and it's really nice to see so many people using them. Trading those Tickets is a different thing - you may have noticed when Trading, you can now double click on an offered item (like a Ticket) to see it in a larger window. This window will also show you the specific information (like the what, where and when!) for the item. Right now you can only double click on items being offered to you, not items you are offering to trade.
Remember to check our new and improved FAQ Section for the specifics on how Tickets and other new features works.
VMK Pass & Host Games
Like I said, it's good to see so many of you taking advantage of VMK Passes. Part of the Club 33 Grand Opening Preview was to test VMK Pass and make sure it was working properly and that players understood how it works.
However, once we saw the system in action we noticed queues of over 600(!!!) players waiting to get into a Host event.(!) Now, I hate to be the bad guy here, but our events only run for a specific time.
In the past when the event time was close to being over we would pull the room from the Room Navigation Menus and only the remaining 50 players waiting in the line would get in. Now with the VMK Pass system we currently have no way to turn off the passes when a specific threshold is met. So for the time being players need to be aware that just because you have a VMK Pass and are in-queue for a Host event it does not entirely guarantee that you'll get entry into the event.
So before you get a VMK Pass, you should check the number of people already in queue and how much longer the event will go - now don't despair! We are working on something that will help fix this and avoid future confusion/disappointment. As soon as I have more info on this, I'll share it with you. One last thing I should point out while I'm on the topic - VMK Pass will not make the line go faster - it only allows you to do something else while your place in line is saved.
Personalize your VMK!
OK, so it's been a few weeks, but maybe you've noticed we added some cool new features to VMK.com! Maybe you've seen them? Well here's a rundown of the new 'personalization' features we've added to the site (make sure you have logged in by entering your VMK account and password by clicking "Sign In" just below the "Play Now" button as most of the features won't be available to you unless you're signed in).
My VMK
After Logging in, you'll see the first 10 Pins that your character/avatar is wearing. You can also see how many credits are in your VMK account.
My Music
Did you notice the Song List at the top of the VMK homepage? Now you can spin your favorite Disney tunes whiles trekking through the Virtual Magic Kingdom, just try clicking the pull down menu and select one of the 11 songs! You can even start, stop or skip to the next song! Over time we will be adding more tracks - so make sure you keep checking the list... and of course be on the listen for Jake & Haley's smash hit 'That Popping Sound!'
My List
Have you checked out the cool Ride Pages on VMK.com? For each of the Parks and Water Parks we've featured some of the coolest rides around. Have a look and make a 'My List' of your favorites! Just click on the 'Add To My List' button. Not sure where to find the rides? Just click on the 'More Rides' button under Park Info section on the VMK homepage - from here you can highlight any of the Featured Parks to see our Featured Rides.
Video Masher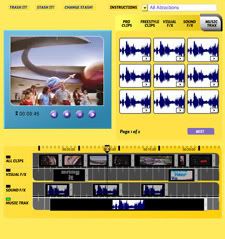 Direct your own video!
Ok, I've saved the best for last! Ever wanted to make your own video? Now it's just as easy as using the Main Street or Monorail Music Mixers - only with video clips instead of music clips.
To make a video, click the Disney Parks section from the homepage. Scroll down until you see the 'Make Your Own Video' section and click 'Create A Video.' Now you can select clips from a specific ride - or from all of them!
Just drag and drop your clips to the slots below in the grey box (just like the Music Mixers). Pro Clips & Freestyle Clips go in the All Clips slots and Visual F/X, Sound F/X, and Music Trax clips go in the slots of the same name. At anytime you can hit the 'Play' button in the blue media widow and see your progress! Click the 'Trash It' button to throw away a video you're no happy with or 'Stash It' to save the video (again, you must be Logged In to use this feature).
Not feeling the creative urge or need some inspiration? Why not click on Video Gallery to see some of the Mash Ups your fellow VMKers have created! You can also rate em' and let them us know what rocks your socks - or what if it needs another edit! Cool stuff huh?
Visit the VMK Gallery for conceptual art and cool behind-the-scenes info.
Well that's about it for this week, if you were hoping to get a sneak peek at other upcoming info (like the in-Park Quest program) I'm afraid you'll have to wait until next week. I really want to give you the dirt on the upcoming plans but we're not quite ready to let that cat out of the bag. I have heard you might be able to see a some new images in the Gallery later in the week! So keep those eyes and ears open, you never know where some good inside info might come from (for example did you notice the Blue Bayou 'Secret' word changed and who leaked it)?
Ok, now back to work! One last thing, in honor of or newest land I'll take New Orleans over Chicago (no offense to any Bears fans). Hey, I'm pretty excited about those football playoffs - perhaps we should do something special for the 'big game' on that certain Sunday...Hmmm...
See you in VMK,
Yavn