Hey everyone! I'm looking for some new outfit ideas, so I decided to ask The People!
Here's how this works: I'll post some pictures of the clothes I have on VMK, and you all can help put together an outfit for me!
Everyone is free to post their own clothes for outfit suggestions here as well! Just thought this would be a fun way to find new looks for our characters. Enjoy!
Clothing Inventory: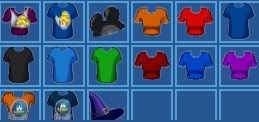 Not Pictured:
Stitch Hat
Gray Mansion Pants
Sparrow Shoes
Flip Hat
Princess Minnie Hat
Bird Hat
Traded:
Flag Hat
Red Babydoll Top
Purple Babydoll Top
Blue Bling Top
Musketeer Hat
Herbie Helmet
Sorcerer's Hat
Hero Mask
Red HKDL Top
Brown HM Pants