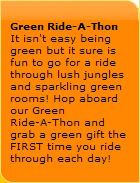 Join the VMK Green Slide A Thon and get free credits the first time you participate! Just look for HOST_ and VMK_ rooms during the select hours of the events to participate. Get in line for the room and join the slide once you enter the room to keep the line moving.
Friday, March 23: 5:30pm-8:30pm
Saturday, March 24: 8:30am-7:30pm
Sunday, March 25: 8:30am-7:30pm

Ride E:

Ride H:
All times are Pacific or VMK time. Please see the official VMK site: http:///www.vmk.com for more information.