Here's a pictorial run down of the 20 min or so she visited with us
I started sitting in my room at about 7:20 and by about 9:30 my butt was starting to hurt...I'm thinking OMG i am not going to make another hour waiting! I had my inventory screen open then happen to notice another person in my room. Mihawk and Rosie were in there already, both afk at the moment.
I had asked hula if she could sing, and she said no, but she could dance!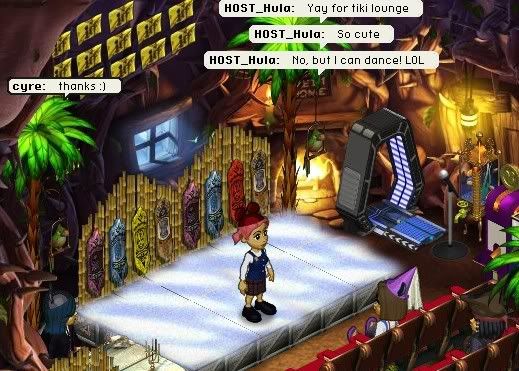 Mihawk wakes up.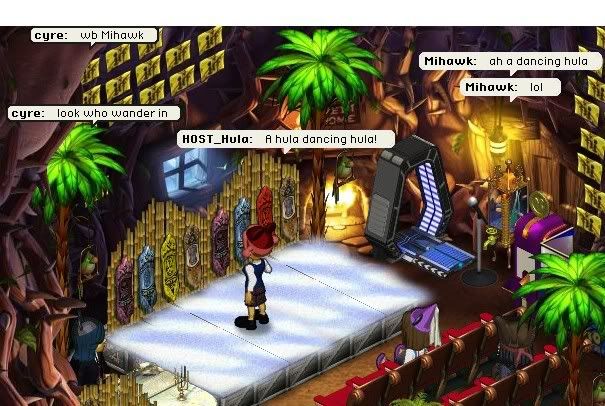 Mihawk and I start dancing with Hula. Hehe I had a feeling this room would attract her in!
Then she starts in on these incantations! 0_o Finally Rosie wakes up.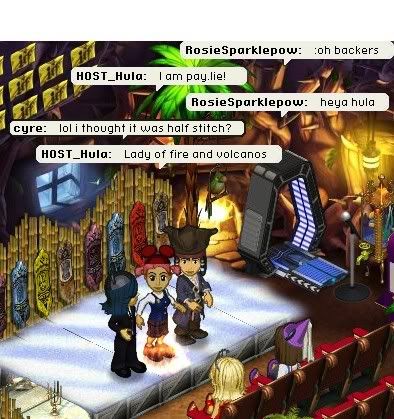 Don't get on Hula's bad side!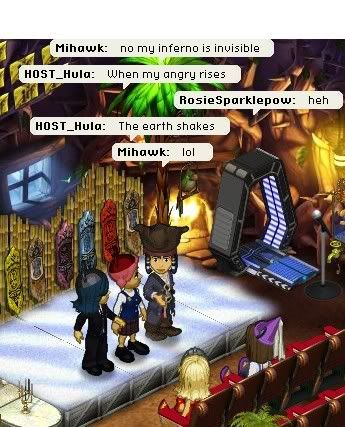 Then we got on the topic of hula-themed outfits...
By this point some random girl had found her way in...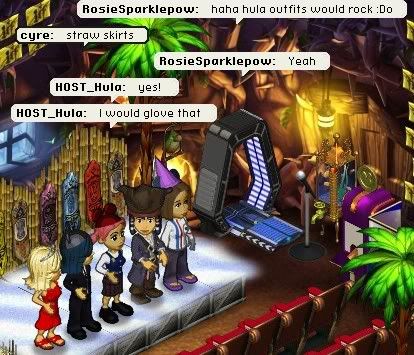 Random girl leaves...conversation continues.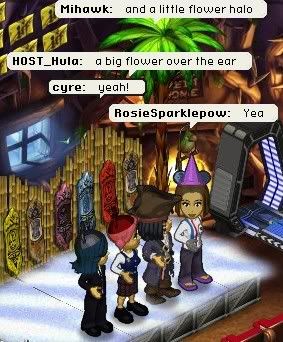 Somehow we got on this topic...I had said something about kicking yavn for the hula outfits then mihawk said if her anger shakes the earth, she should that that anger when she asks yavn for a raise. Here is the response to that!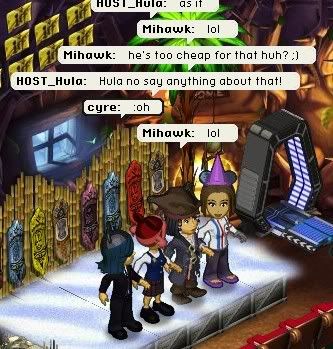 Midien and OrangeRyan join us after a while.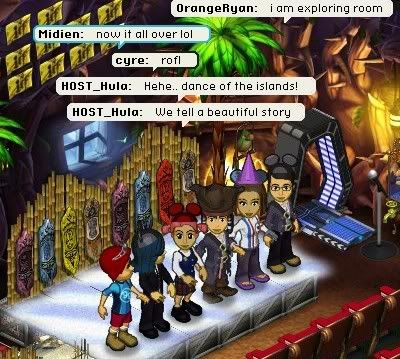 Now at some point, earlier on, Hula switches out a Tiki wall for a green one!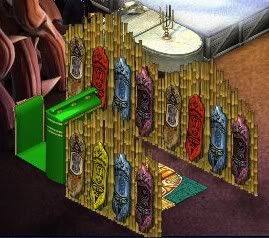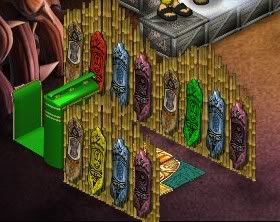 Had to add this in
By now, Samy had rejoined us.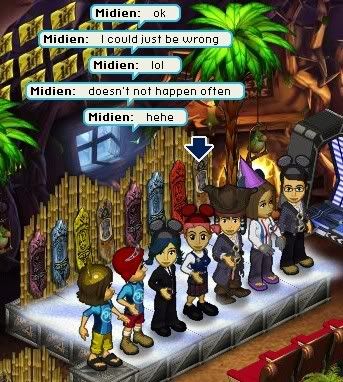 Ok so at this point, Hula decides she wants to go dancing. Before this moment we [hula] was recovering from a massive case of the laggies.
So she wants to go dancing now. She picks some room and invites us to go. So we did. Turns out the "Dance" room was a cute or boot room in progress. Hula was like well time to go back, cyre. So we go back and so does she! She then sticks around for another ten minutes or so.
Right after coming back. Evil arrives to do her usual 'stocking' of Midien and I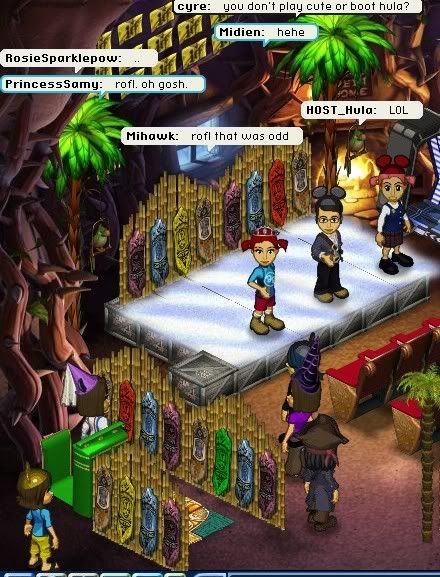 Continued...
I am asked to sing, so I change into some prettier clothes. No sooner I start to sing, some crazed fans start rushing the stage and asking for autographs!!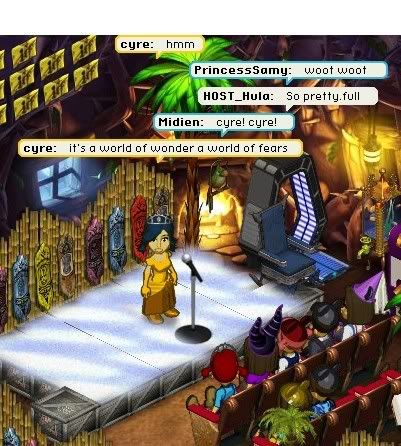 I had taken away the piano to give room for the additional dancers we had on stage, then i notice Hula putting another one back and then she sat down on it. I check my inventory, and there isn't one there, so she had gone into my inventory and put it back!
Continued...more rushers.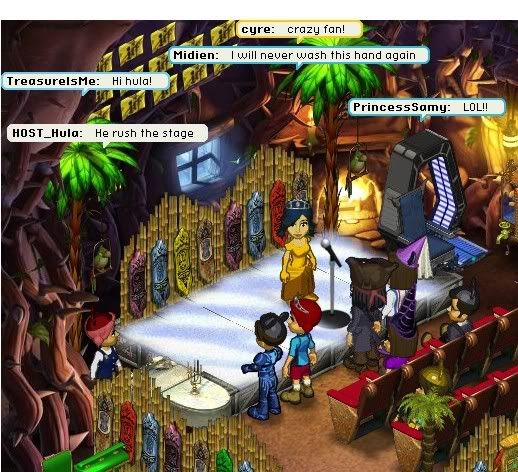 Got a few more random people, we all start singing, Midien says something about cleaning her kitchen or something and we get the following...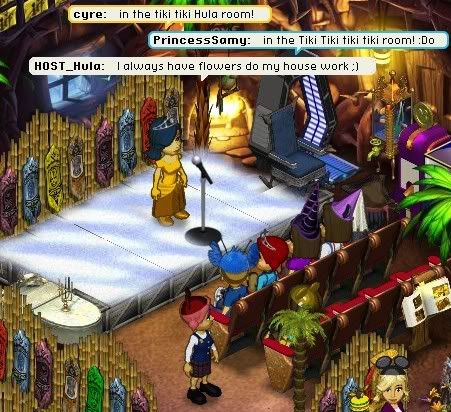 She hung out a bit longer, then said it was time to move on. It was good fun had by all who visited.
Thank you so much for those who came, especially Mihawk, Samy, Dance, Rosie, Geek, and Angel for 'room sitting' those prior hours.
Next week we room sit for Evil!!
Laura