Red=traded
Blue=New
Green=Pending Trade
Since today is thanksgiving i decided to make a trade thread on some items i want to trade. Plz offer fairly and if i am unsure with the trade I will post it in the threads asking if it is fair for both of us or if i should add more or if you should add more
) ALSO: If you offer credits for nonrare items you get only have to pay half of it....for example if you were offering on a weekend pin that was not rare because it was out today the price in vmk would be 500........in my thread its 250
!!
Furnish:
Pins:
Clothing:
Posters: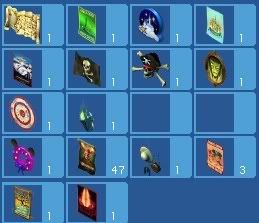 Credits:
I have some so this is the only acception when you can say...I have____ how many credits do you offer?
Sprees:
I have ALOT

of sprees to give out so this is when you can use the acctption of saying the same things with credits.
Updates:
(
this is where i will show what I have trades, what is pending, and what items I have added)
x1 Mickey TV
Plz do not say these things:
I have_____what will you give me for it?
What do you want for______?
OR ANY THINGS LIKE THAT
Can't forget the
Wish List:
Pirate Q
Inferno(HEHE
))
Stitch(Douple HEHE
))
Magic
Minnie(another HEHE)
Credits(for non rare items)
Well I take just about any item expet proablly stuff in the not want list so
offer away
Non Wish List:
Holiday Items
Recent Weekend Pins(exept maybe some minnie pins because I didn't have the chance to get any and was only able to get 1 from a friend)
Room Codes
Sprees
Credits(for rare items)
*I will add to my non wish list and even my wish list as i see offers*