Before I start telling you every last wonderful detail of my trip, I just want to say that this was probably the best trip to Orlando I've ever experienced. Living so close to WDW, my family never usually goes to more than 2 parks during a trip, and this time, we went to 3 plus Disney Quest. I had a blast! And thanks to MiceChat I am now addicted to Dole Whips. :ctongue:
Let the TR begin!
For the first half of the trip, my friend Courtney and her parents were staying with us, because they had an extra ticket to Disney Quest and offered it to me. I drove up with them to go to Disney Quest, and my parents drove up later to check in at the Orange Lake resort. DQ was so much fun! My favorite attraction was the make-your-own roller coaster. Courtney and I got to design all of its aspects, and then ride it! We got to choose two words for the name, and we decided on 'Jolly Banshee', so that was the theme of everything we did for the rest of the night. At the creativity section I made my own toy (the theme was from Toy Story, remember Sid, the crazy demon child who took apart toys and rebuilt them to resemble mutant toys?!) on a computer. The coolest part was that you could actually buy the parts and make your toy! So, I did. And guess what it's name was? Yep, the Jolly Banshee. Here's a snapshot of the beauty:
And here's one with the highly excited moi and my new creation:
After DQ, we met up with my parents and went shopping in Downtown Disney, where I got my marvelous HP Dumbledore's Army shirt as shown in my avatar!
When we got to our villa, Courtney and I were overcome with an extreme case of boredom, which led to sitting against the couch taking alot of pictures. Here's a few examples...
The next day was Animal Kingdom! I got pictures of all of the animals on the safari tour we took there, but there's too many to post! :lol: It was great, though. The tour guide was fun.
Here's Courtney and me in front of Expedition Everest (which is now, by far, my absolute FAVORITE ride in WDW!!!):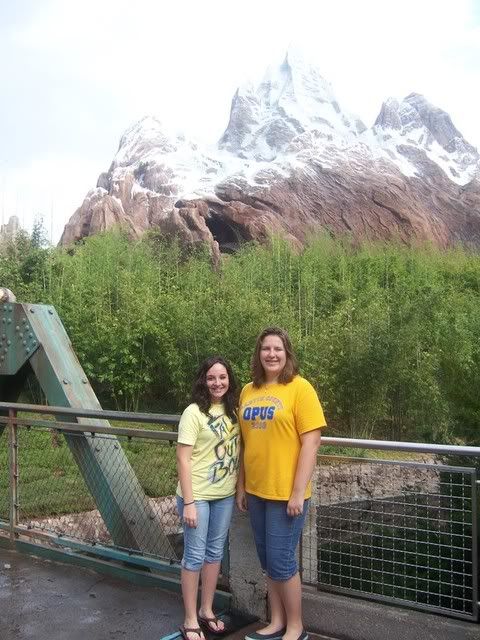 Here's Courtney and me waiting for 'It's Tough to Be a Bug!' in our Bug Vision glasses. Me, being short, and Courtney, being tall, couldn't fit into the picture while I was holding the camera. :lol: And yes, that is the pair I stole. ;D
When we were leaving AK, it was pouring rain, which led to lots of fun on the dripping wet tram and the blurry parking lot. It was hilarious!
After that, we took a resting day, and Courtney and her parents left. I didn't get many pictures of the next park, but heeeeere's Epcot!
I loved Soarin' and Mission: SPACE! My dad freaked out on Mission: SPACE, it was absolutely hilarious. He hasn't stopped talking about it since.
Here's the castle at Magic Kingdom Christmas style! This is one of my favorite pictures overall.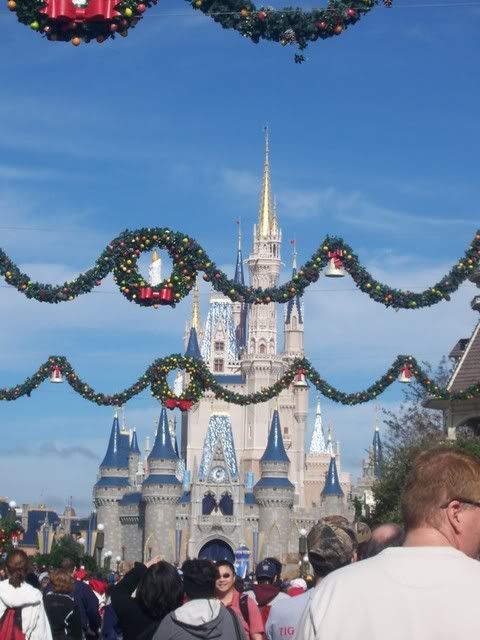 View from the People Mover/Blue Line Express/Tomorrowland Transit Authority!
See this guy?
He's my lover.
The castle at night right before the SpectroMagic parade! My camera's not too good with nighttime settings, so it's a little blurry.
Most of my pictures from SpectroMagic were blurry, so here's a few that came out on the better side...
Peacock!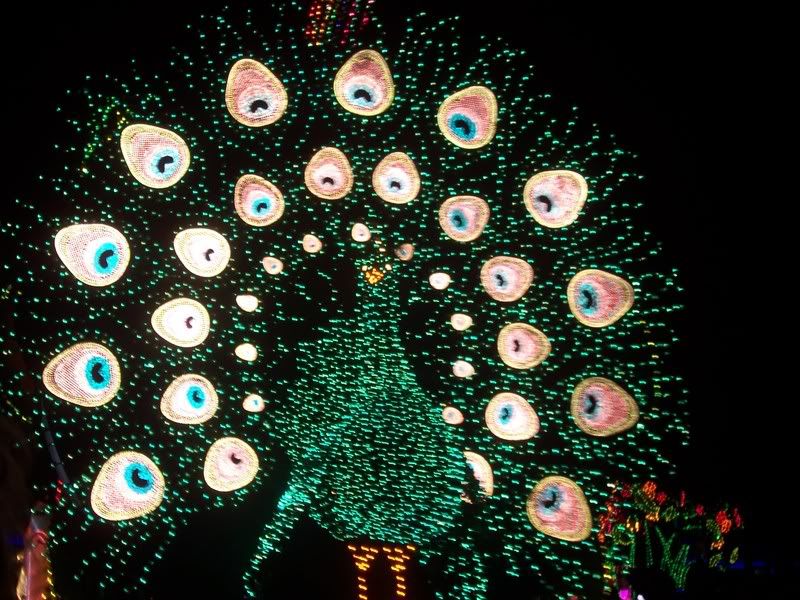 Oh boy. Now the SpectroMagic theme song is stuck in my head.
Cinderella!
Throughout the trip we had Dole Whips twice, thanks to MiceChat! I absolutely love them now!
Also throughout the trip, I was keeping Angel updated on my plans via texting. She was basically my only connection to the outside world, so I talked to her, alot. :lol: I also kept a look-out for hot foreign guys. Most of them were at Downtown Disney, Italy and Norway in Epcot, and THE MONORAILS! The sad part was, the chemistry was tangible between me and one of two gorgeous twins on the monorail from Magic Kingdom, but I couldn't act on it because both of our families were there. How depressing.
And that concludes my trip!! Hope you enjoyed reading about it!
)