I need some pictures of items.
I am finally getting the hang of editing items ; but I have no pictures of the items in inventories ; and I would get them myself but I got banned last night for 30 days :crybye:
So if any of you could give me some pictures of items [ any items I don't care ] that would be much appriciated =]
And if you want a specific color for it ; I'll do my best.
Thanks for helping out.
~KelseaNicole~
Ok ; Here are finished ones.
I made this one about a month ago ; I've gotten better since then.
And this one only the ears are edited ; my favorite so far.
Here's Megan [ WishDreams ]'s favorite. Again ; only the hat is edited.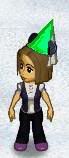 This one came out really bad ; Megan wanted me to make it.

And This one WAS good until I decided to make the face part green ; ahahahaaa.
And More Pink Ears ; Only These Are Pink DREAM Ears.