Disney/ABC Television is celebrating 10 years of
"Who Wants to be a Millionaire?"
by kicking off a two-week (11 episodes) run of primetime shows, starting this Sunday at 8 PM on ABC.
Millionaire
took the world by storm back in 1999 with it's limited summer run, and the chance at a million dollars. With 15 questions, and it's unique 'lifelines' and 'final answers',
Millionaire
launched a world of new quiz shows. For Disney Parks fans, it even had a popular
'Play It!'
attraction at Disney's Hollywood Studios/California Adventure. To date, Millionaire has given over $130 million away in cash and prizes, to regular people all over the country!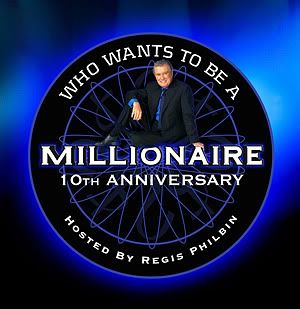 While the game is basically the same, new and exciting changes have been added (including popular elements from the 2004
Super Millionaire
). This new format remains popular in the Daytime series (now on it's 8th year), and includes changes like the clock and Ask The Expert. Experts during these special episodes include Mo Rocca, Bill Nye, Ken Jennings, and George Stephanopoulos.
As a special feature, each episode will conclude with a celebrity player taking the hot seat, hoping to correctly answer a single question worth $50,000 for his or her favorite charity. The list of celebrities include Snoop Dogg, Rachel Ray, and Katy Perry.
You can
get more info at the ABC website
.