Well, being a HUGE fan of the commercials.. I was really looking forward to this. Keeping in mind that this was the pilot (and like a lot of pilots...NOT the best) I actually enjoyed it.
What I see is lots and lots of potential if it is given time to grow into itself.
(And what can I say.. I'm absolutely positively taken with Nick! (He's the one on the right! Couldn't find the really good pics of him)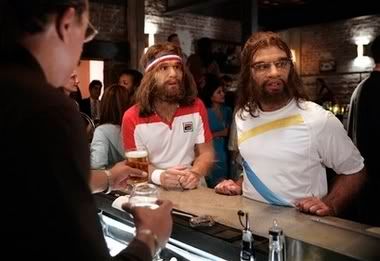 Being the self-rightious, "Sape"-hating, "Cavemen for Cavemen only," con artist git that he is... I LOVE HIM!!!:thumbup: (Yeah I could convert him over to Sapes -= caveman slang for Homosapiens) really easy!!!) :blush::yea:
But, I'm hoping this show gets a chance...like I said..wasn't the best, but soooo very much potential.